The injection machine can be installed on the ovens :
- in this case, the products are injected in the baking trays.
Or on the cooling conveyor :
- the product would be injected after being turned out.
This machine is designed according to the shape of the trays.
Injection can be done simultaneous on one or two rows.
Maximum rate :
15 rows / minute for a simple machine
30 rows / minute for a double machine..
Cream injection.
Double injection : jam and chocolate cream
Injection machine installed on the oven.
Double injection installed on a cooling band made in polyurethane.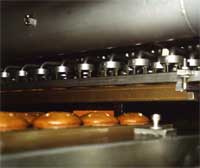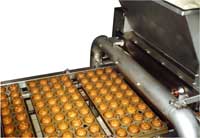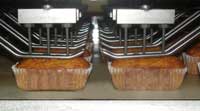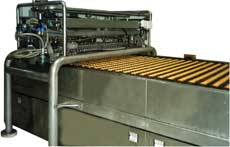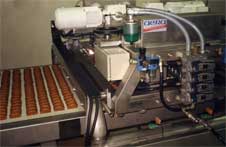 AERA - Z.I. DE LANVILIO - 29370 CORAY (FRANCE)
Tél. (+33) 02 98 59 34 34 - Fax. 02 98 59 13 77
aera.sbourhis@orange.fr
Cream injection. (détail)